Alert Logic Cloud Defender

101

Alert Logic Cloud Defender is a fully managed cloud-based suite of security and compliance solutions for hybrid IT infrastructure delivered as-a-service. Cloud Defender bundles and delivers Alert Logic products, services, and features into one package.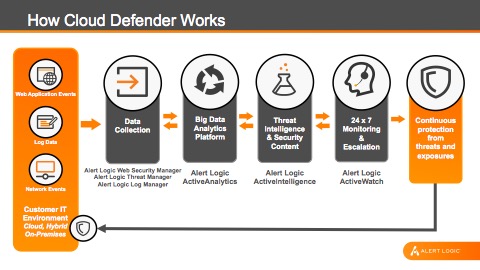 Alert Logic

products

Cloud Defender includes the following products:
Alert Logic Threat Manager

Alert Logic Log Manager

Alert Logic Web Security Manager
Alert Logic

services

Cloud Defender includes the following services:
Alert Logic

ActiveAnalytics

Alert Logic

ActiveWatch

Alert Logic

ActiveIntelligence
For more information about Cloud Defender how it works, and how it provides continuous protection, please see Alert Logic Solutions for Managed Cloud Security.
Cloud Defender

installation workflow

You can install Alert Logic products in any sequence, but Alert Logic recommends that you install the products in the following order:
Threat Manager

Log Manager

Web Security Manager
To read installation information for all Alert Logic products, see Installation.
Information about agents
Alert Logic provides a single agent to support Threat Manager, Log Manager, and Web Security Manager. For information about agent installation, see About the Alert Logic agents below:

If your Cloud Defender deployment includes Active Watch Premier, you must open outbound port 9000.
Features available to
Alert Logic

products

The following table illustrates which Alert Logic features, accessible from the drop-down menu at the top of the Alert Logic console, are available to each Cloud Defender product.